1st Annual Labor Day Car Giveaway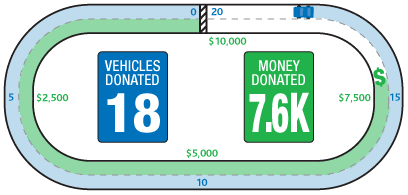 HELP US MEET OUR GOAL: 20 VEHICLES AND $10,000
For those of you thankful for your jobs, here's your opportunity to help 20 families keep theirs. Thanks to a $10,000 matching grant from Altrusa International, Tampa Chapter, Wheels of Success plans to give out 20 vehicles on Labor Day.
We need 20 vehicles that are running or need minor repairs. No contribution too small.
September 4, 2006 • 10:00am
Sears Automotive at Westshore Plaza.
For more information call: 813-417-1090
Car Donations:
Bill Currie Ford
individual
individual
R&S Import
individual
individual
individual
individual
individual
individual
individual
individual
individual
individual
Brandon Hyundai
individual
individual
individual
Monetary Donations:
Altrusa Intl., Tampa Chapter
individual – $400
individual – $50
e-Women Network – $6000
individual – $100
individual – $100
individual – $1,000