$20K Power of Giving Campaign Goal Possible with America's Giving Challenge as Final Lap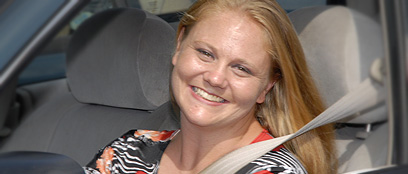 We want to thank everyone who has helped us raise $15K to repair the 20 vehicles given out on Labor Day. One picture says it all … YOU helped put this Labor Day smile on Recipient Lenore H.'s face as she drove her new-to-her wheels out of our parking lot. If you have been following our progress on our web site, you know that we still need to raise another $5K to cover repairs of those vehicles.
America's Giving Challenge presents an opportunity for us to meet our goal of turning Ryan Nece's $55 into $20,000 to pay for repairs made to cars already given out on Labor Day so we can begin repairing the many cars that have been donated to us via our CNN coverage.
Please visit http://apps.facebook.com/causes/368400?m=618c3fb4
Because America's Giving Challenge is awarding $1,000 and $500 prizes daily for charities receiving the greatest number of unique donations made in a given 24-hour period, we would like to focus the donations offered on our behalf on a single day … between 3:00pm Tuesday, October 27th and 2:59pm Wednesday October 28th. The minimum donation allowed in this campaign is $10. That's all it takes, but we won't turn down more!
Remember that only one donation per day per single IP address counts toward daily prizes. Be sure to visit the above web site the afternoon of October 27th and again on the 28th to track the success of the top three contenders! If we are winning, WOS will be listed. Even if we don't win an America's Giving Challenge prize, our recipients will win by virtue of your donations – 100% of which will go to pay for the repair of donated vehicles.