AutoWay's 13 Days of Christmas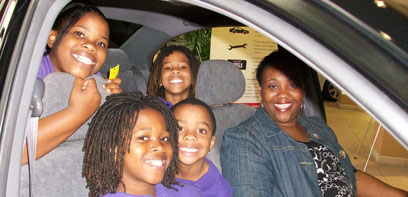 Unemployment is at an all-time high and for those without transportation it can be a vicious cycle of determination. For families living in the Tampa Bay and surrounding areas hope comes in the form of a program called Wheels of Success. Through generous donations Wheels of Success offers reliable transportation or maintenance of their existing vehicle to eligible families. Services include; access to car repairs, vehicle replacement, car payments, down payments and car-care classes.
"We understand the challenges families in our community are facing during these tough economic times. So this year we wanted to make a difference at the local level to a family living within each store's community," said Market President, Joe Petrillo. All 13 AutoWay stores have teamed up with Wheels of Success to participate in its 13 Days of Christmas Car Give-a-way. Beginning December 8th and for the next thirteen days (except Sunday) in December, one family in each community where AutoWay has a dealership will receive a reliable pre-owned vehicle.
"Each store chose a vehicle from their lot to be serviced, reconditioned and detailed. Through a combination of our Associates supplying the man-hours and generous support of partners in the automotive industry, we will be able to present thirteen fortunate families with a reliable vehicle within our communities," said Joe Petrillo.
To date Wheels of Success has given away over 280 vehicles and provided more than 280 additional transportation services. 89.7% of every dollar raised goes directly back into their program. If you would like to learn more about the Wheels of Success program, to make a donation or nominate a deserving family, visit our www.facebook.com/Autoway and continue to check back with us on Facebook to see our progress and to meet the families. AutoWay is driven to make a difference.