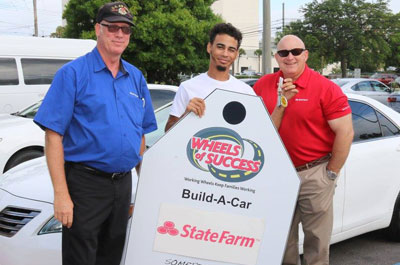 Wheels of Success' Annual R.A.C.E. on Thursday, May 19, 2016 at the Doubletree – Westshore in Tampa
This year's R.A.C.E fundraising event was a breakfast with all the great stories of our annual event while at the same time allowing more funds to go directly to providing transportation solutions to working families. As a result over $60,000 was raised towards providing additional families with reliable vehicles. With $3,000 being the average cost to get a car road ready, 13 additional families will be able to receive reliable transportation and the additional funds will be used toward keeping Wheels of Success on the road.
Celebrating the organizations' 13 years of serving low to moderate income working families in the Tampa Bay area with personal transportation solutions would have not been possible without our Sponsors. Two featured speakers at the event were John Imming speaking on behalf of Champion Sponsor AAA Auto Group and Bob Conigliaro VP of Casper Company/McDonalds Speaking on behalf of Driver Sponsor Casper Company/McDonalds employer partnership.
Two working families received vehicles at the event. Army Veteran, Megal received his 2009 Toyota Camry hybrid, vehicle sponsored by StateFarm under Wheels of Success' Vehicles for Veterans Program. Trenae, the second recipient will be receiving her vehicle sponsored by Triad Foundation as part of the Wheels to the Future Program once her insurance is in place thanks to Nicole Marchman's Lightning Community Foundation Hero Grant funding.
In addition to the 2 vehicle presentations and success stories, a regular feature of the event is the presentation of the annual Hub Cap Award. Penny Rogo Bailes of MamaRazzi Foto was honored as this year's #1 Fan for her photographic support of Wheels of Success since the very beginning in 2003.
Wheels of Success' Founder and CEO Susan Jacobs says "From start to finish this year's R.A.C.E. was a success thanks to the hard work and support of our Community Partners and Staff." R.A.C.E event guest's Built-A-Breakfast, while funding the Build-A-Car program, leaving the event with a sweet feeling in their hearts, and a sweet treat of DoubleTree cookies (compliments of Florida Design Consultants) as well as a coupon from Caspers Company- McDonalds for a Free breakfast item. At the same time R.A.C.E. funded Build-A-Car recipients, will be able build their lives.