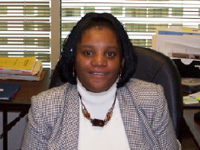 Alesia S. knew life would change when she and her family relocated from California to Florida—but she had no idea how much. While driving across the country, their SUV rolled over on the interstate. The vehicle was totaled, along with a trailer towing all their belongings. It was a terrifying moment, and the beginning of a financial crisis.
Expenses piled up as the family was forced to rent a car for over a month, pay for an extended hotel stay and delay employment plans. Determined to get life back in order, they bought a used vehicle for $1200, but the engine went out within a month. Undeterred, Alesia began to rely on public transportation to get her daughter to school each morning and pick her up in the afternoon, as well as to look for employment. The trips took hours.
Things began to look up when Alesia found a job that worked around her daughter's school schedule, but accepting the offer made finding reliable transportation imperative. Fortunately, Alesia's forward-thinking employer knew about Wheels of Success and submitted an application on her behalf. Within weeks she had a vehicle, and stability began to return to her family.
Since then, Alesia has become an irreplaceable asset to Wheels of Success. She serves as the client representative on the Board of Directors and works part-time as its Administrative Assistant to help other families sidetracked by the unexpected.