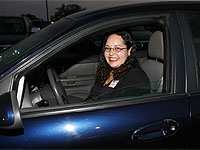 Carmen officially received her 2000 Ford Taurus at the Wheels of Success fundraiser at Tampa Bay Downs in February. (Actual delivery followed shortly thereafter.) She was recommended to the organization by her pastor at New Hope Alliance in Lutz.
As the mother of two children, ages 2 and 7, Carmen continued carefully (and prayerfully) driving a vehicle with brakes that had failed three times while she transported her precious cargo. Twice she had paid to have the brakes repaired. The third time they failed she simply could not justify the futile expense. Until then, Carmen took extra efforts to stop with additional distance from other cars. She says that she became a much more aware driver, anticipating the moves of others. She was bothered greatly by the daily risk due to faulty brakes, but she had just bought new tires for the car that "otherwise" was okay. Financial constraints left her with no choice…or so she thought.
Her church disagreed. By not only submitting her name but stepping up financially, New Hope Alliance partnered with WOS for this family's safety. Carmen donated her old vehicle for parts. WOS provided the Taurus, two new tires, and a car-care class.
"I'm very impressed by the way Wheels works," says Carmen. She was excited by the way the organization's mechanic tailored tips to her vehicle." I learned about the fluids and everything," she said, "and it was free!"  The best part is feeling she can relax behind the wheel now. "It's amazing what you take for granted," says Carmen, adding "God is good."