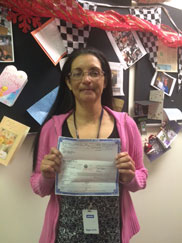 When Carmen was referred to Wheels of Success, she was was recovering from a surgery that left her unable to work for several months. Her time away from work resulted in the loss of her vehicle. Upon return to work after initial recovery, Carmen's biggest challenge was transportation. Carmen found it virtually impossible to meet the demands of traveling to/from work, her children's school and continued medical needs for her recovery.
In February of 2013, Carmen was presented with a Nissan Maxima which allowed her the independence necessary to support her 2 children and to complete the continued medical needs of her recovery. Upon completion of the year long Wheels of Success program, Carmen was awarded the title to the Nissan.
Carmen's journey with WOS did not end there. Carmen had always dreamed of having a vehicle of her choice, so she moved into our GTE Financial program by purchasing a vehicle through our Automotive Buying Center (ABC). The GTE program, a social enterprise of Wheels of Success, allows a qualified individual to obtain an interest free loan based on income, not credit history, with payments spread out up to three years. This program allows the individual to build or repair their credit history over the course of the payments as well.
Carmen was approved for an interest-free loan and chose a 2003 Hyundai Santa Fe. She would not let bad weather stop her from driving away with her new vehicle after completing the vehicle checklist in the rain.
Carmen sums it up best: "I have always wanted a pretty girl car and now I have one and it's also a blessing that I am able to improve my credit history".