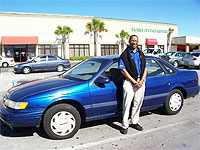 Chris was truly grateful to be re-united with his 12-year-old son but lamented what his transportation limitations stole from their lives before they received a 1994 Ford Escort from WOS. "I believe in Wheels of Success and what it does," he says. "I am happy I was chosen because we have been helped in a lot of ways."
Recommended to the program by Hillsborough Kids, Inc., Chris depended on the local bus system for transportation to his job as a guide for the Tampa Downtown Partnership. Usually working the 11:00 am to 8:00 pm shift, Chris spent four hours a day commuting. Each trip required two busses and miles of walking. He was able to pick up his son from the babysitter by 9:00 pm; from there the two faced a dark, 2.5-mile walk home together.
"It was hard on both of us," admits Chris. There was little time for the father and son fun they had anticipated in the re-unification. "I had no time to prepare him nutritious meals on school nights after arriving home at 10:00 pm. His grades were suffering because it was too late to go over his homework together. On the weekends, I walked with one bag of laundry at a time to the apartment complex laundry facility." When Chris was scheduled to work on Sunday mornings, the bus did not run early enough to be an option for him to get to work on time. Fortunately, all that is history now for this father and son.
"With transportation to work and doctor visits resolved, we have time for evening church services which are an integral part of our lives," shares Chris. "I never imagined my life as good as it is right now," beams this proud dad. "With a car and a new shift, I'm getting home by 6:30 pm, with plenty of time to prepare a healthy meal and go over my son's homework. He is now earning A's and B's in his school where I was just named Parent of the Month! Our quality of life has changed drastically. I actually cried over the phone when I learned that we would be getting a car."