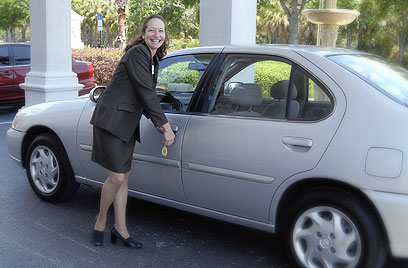 Cynthia had it all—a happy marriage, two beautiful children and a successful career. Then Cynthia's world was shattered by addiction.  She and her family suffered many hardships, and Cynthia eventually ended up in prison. When she was released three years later, she began to rebuild her life.
Starting with nothing, step by step, she conquered many difficulties, including transportation. Utilizing HART line for two years, an opportunity for reasonably priced housing became available. She began attending school during the day and working nights at the Hilton in Ybor, but it was impossible for her to get home after work riding the bus. Candace Odierna, an advisor, referred her to Wheels of Success.
With the gift of transportation from Wheels, Cynthia's life changed dramatically. While attending school for Behavioral Health, she was granted a scholarship which allowed her to pursue her passion—law.  She recently graduated with honors from the University of Miami Executive Paralegal Certification Program, and she has moved to a new home in a much safer area. Most importantly to Cynthia, having a vehicle has given her the opportunity to spend much more time with her children, the light of her life.
In Cynthia's words, "With your generous support, you have given countless, unobtainable opportunities to many, allowing recipients to do so much more with their lives, and more importantly, spending time normally spent on public transportation with children, family and loved ones. For me, you have helped to get my life back and through your gifts, you have allowed me to give the gift of Mom, something truly priceless. Thank you all."