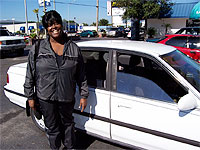 Before discovering Wheels of Success, Ebonie B. was stretched between her child's and employer's needs. Lacking personal transportation, she relied on the well-meaning but often inefficient city bus system to get to daycare each morning, and as a result was frequently late to her temporary job. She was in jeopardy of losing the position, which she desperately needed.
Eboni knew she was a reliable and motivated worker and she longed for the stability that would help her prove this to her employer. Fortunately, she was referred to Wheel of Success by Alpha House, a nonprofit that helps single mothers. Thanks to a donor's support, Wheels of Success was able to provide her with a car and assistance with vehicle maintenance.
Today Ebonie is on a different path. With late arrivals in the past, her employer has recognized her dependability and good work. Her temporary position has become permanent and she attends college part-time working toward a business degree.