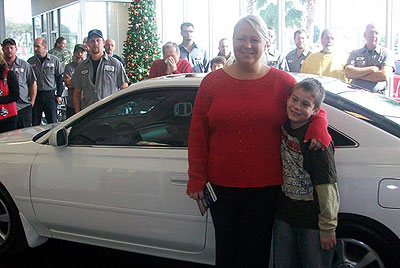 After years of abuse and threats on her life, Fiona and her young son fled their home in the middle of the night. She took nothing with her except a laundry basket filled with clothes and a few toys.
Like many victims of domestic violence, Fiona had no work experience because her controlling husband would not allow her to have a job. Determined to make a better life for herself and her son, Fiona searched until she found an employer who was willing to give her a chance, but she had to walk four miles to get to the office and back home–with a cane. When a co-worker learned of her situation, he told her about Wheels of Success.
Fiona was one of 13 recipients of vehicles from local AutoWay dealers as part of the 13 Days of Christmas event. In just a few months, Fiona's car has provided her with both independence and opportunity. She has been able to get to work on time, and she just got a pay raise. She has also started her own side business, Two Maids and a Broom, and has more than doubled her income since receiving her car.
Fiona recently underwent the knee surgery she needed but didn't think she could ever afford. She is healthy, happy and confident.
She says that one of the best things about having a car is that she is able to attend activities with her son, including driving to his school three times a week to spend their lunch time together. Mother and son are also going to domestic violence counseling each week–something that they would not have been able to do without reliable transportation.
With a bright smile and tears in her eyes, Fiona said, "The past is like it never happened. I am truly grateful for all that's been done for me."