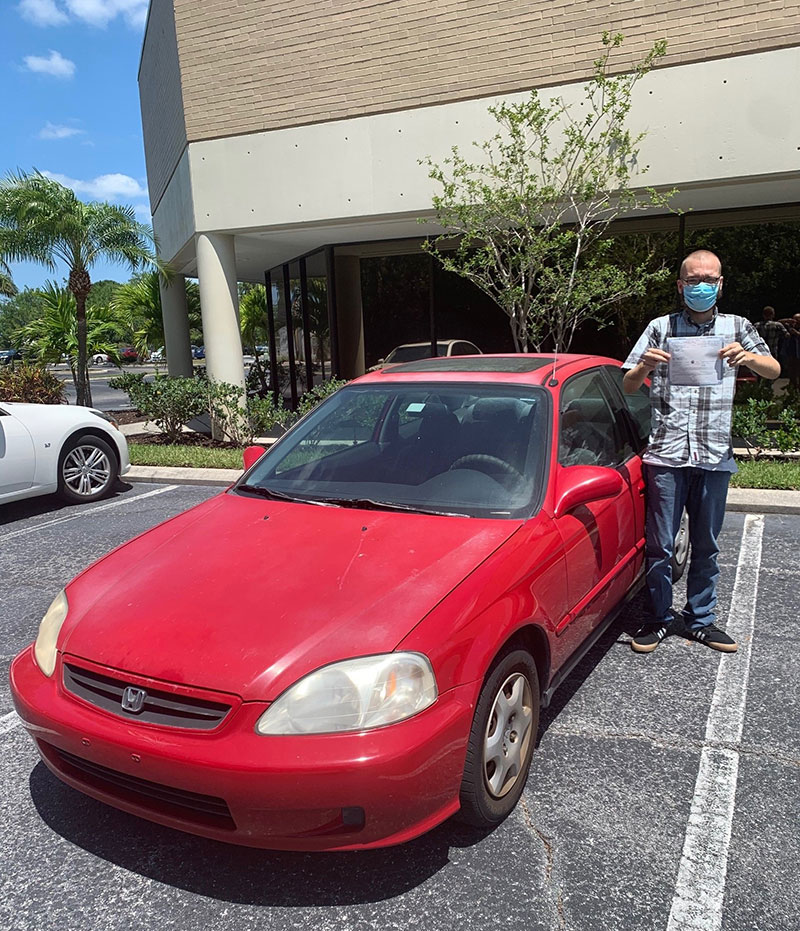 Grant S. is no stranger to overcoming challenges. His story stands out, even among the hundreds of lives that a car from Wheels of Success has impacted. His dedication to his goals, his gratitude toward those that assist him and his perpetually positive attitude are inspirational. Grant doesn't simply get by with his diagnosis of being high functioning, yet on the autism spectrum, he's thriving!
In 2019, Grant was referred to Wheels by Ready for Life, an organization providing support to young adults transitioning out of the foster care system. He was finishing up high school and wanted to continue his education and study computer networking and IT in college. Unfortunately, his lack of transportation made it impossible for him to attend his school of choice. Public transportation meant a nearly 2-hour trip, each way, for classes.
The Wheels of Success "Build-A-Car" program, funded by Tomlin St Cyr Real Estate Services was able to provide a "new to Grant" Honda Civic and put him on the road to success. The car has allowed him to get to school in record time (under 30 minutes!) while also allowing giving him the freedom and mobility to get to the doctor, the grocery store and other appointments. Grant has already achieved a number of IT certifications (including CCNA, Security+, Network+ and more) and he'll soon be finishing up his last two classes for his degree.
Grant's been the model Wheels of Success client. His dedication to volunteering is second to none. He's filed, packed, cleaned, organized and moved boxes on behalf of Wheels. His energy and enthusiasm are contagious, and he's always calling to see what else he can help with.
Grant's also proof that Wheels is making a difference with our required Care Care Class. In addition to regular preventative maintenance like oil changes and tire safety, the class teaches the importance of paying attention to the dashboard warning lights. Grant was able to identify a leaking radiator hose before any overheating or radiator damage could happen. If you ask him, he'll readily say, "That Car Care Class saved my car- No doubt about it." Don't be surprised if you see Grant in his red civic for many years to come.