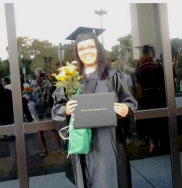 "When I was 12, I couldn't imagine the journey I would soon take in my life. Nothing will erase that dreadful day that took place in November 2002. From that day on, I faced joy, neglect, abuse, and many bittersweet moments in foster care. There were times I was separated from my little sisters and wanted nothing more than to be reunited with them and be happy. There were times when I was forced to eat from a trash can, times where I was forced to beat my little sisters, and times when I was forced to watch them get hit by our caregiver. These things cross my mind everyday, but they've made me so strong beyond belief.
Unfortunately, I matured way before I had a chance to be a child. Because of this, I learned to cherish all good things around me … the Christmases I've had, all the time I got to hang out with my friends, even small things like getting a new pair of shoes. I've become very thankful and hold on to all these things in my life; they remind me that there weren't only bad times."
Through her courage and determination, and with a hand up from Ready for Life and Wheels of Success, Jamaica has overcome extraordinary challenges. Wheels of Success partner Ready for Life provided Jamaica with emotional support and transitional housing assistance and she received a vehicle through the Wheels to the Future program. Jamaica has recently graduated from Pinellas Technical Education Center, and she is currently enrolled as a full time student at St. Petersburg College while working part time at Sweetbay Supermarket. She is planning to transfer to U.S.F. to earn her B.A. degree. Having her own transportation has allowed Jamaica to get to school and to work and has helped put her on the road to success.