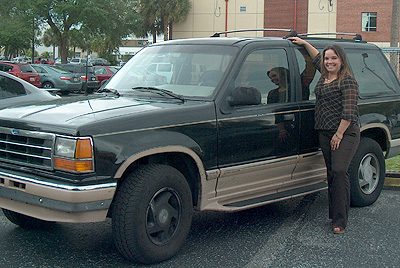 Wheels of Success has changed my life. I heard about this program from my dad, who listens to talk radio. He told me to try it and see if they can help. At that time I had two cars that did not run, and no hope of getting them fixed. I filled out the application and told my bosses, Donna Kanabay and Sandi Ambush, about what I had found. Susan called to speak to Donna to verify employment and income, and soon after that I was on the waiting list for a car — and not just any car. Susan took the time to listen to what I needed. As a single mother of two young children (preschool age,) and a job that required me to transport boxes of supplies, I needed something big. My first car was a van. I loved the van! It was perfect for me! I had the van for almost a year, and then the transmission went. I figured they were going to tell me, "Sorry, we did all we could." But they didn't! They helped me find yet another car! With a donation from my bosses and the caring service from Wheels I now have an SUV that I think I love more than my van!
I can't even imagine where I would be without this help. It is very freeing and liberating to get in your car and go and not have to wait for a bus or call somebody for a ride; to just be able to say to my kids, "come on, guys, let's go," and be able to go. It has made me feel independent as a mother, as an employee and as a person. The world could use a few more Donna Kanabays, Sandi Ambushes, and especially Susan Jacobses!
Jennie C.
Jennie started with our company, Kanabay Court Reporters, as a part-time employee in the billing/shipping department, about 3 years ago.  When we lost an employee in a similar position we made her a full-time employee and increased her duties substantially. These duties include stocking supplies in our three different locations, including doing the shopping for the supplies. Often, these supply runs are an emergency because we haven't been told that we were running out of something and we have a room full of lawyers needing 4 copies of a document and there's no copy paper, so Jennie has to be able to move immediately to go to our Clearwater or our Tampa office. Her job also often requires her to deliver transcripts to clients in either Pinellas or Hillsborough County, also often on an emergent basis. There is simply no way to plan for these events and it's imperative that she have ready access to reliable … "wheels."
When Susan Jacobs first called me to verify Jennie's employment and income, she informed me that she was concerned that Jennie didn't make enough to qualify for covering the expenses for the vehicle, so we gave her a raise to cover that. At that time, Jennie was still hourly.  Due in large part to Wheels' assistance for not one, but two vehicles, Jennie has become such an indispensable part of our operation that, effective January 1st of this year, we made her a salaried employee, with paid vacation/personal time. As you can imagine, going from hourly, where we didn't have to pay her for time she needs to take care of children's emergencies or other personal matters, to full salary, cost the company a fair amount of money, especially in a period of tough economic times, but we felt that she had earned it and that she, and the company, needed to take this step.
Her duties now include so much more than a runner or a clerical position. There are few areas of daily business that she is not able to step smoothly into the seat of either of the other, more senior, staff members, when they're sick or on vacation. We often leave Jennie in the office "solo" with complete confidence.
I have observed her gain poise and confidence with each month and each year of her time with us, and I know that Wheels of Success is, to a very large degree, responsible for her personal, professional, and emotional growth. It is a pleasure and a joy to watch the young, insecure, scared and broke young girl who came to work for us blossom into a confident, secure, poised young woman. A year ago, I told Susan that I wouldn't exactly say that Jennie wouldn't be working with us without a vehicle, but that it made her far more valuable to us.  A year later, as our business has grown and Jennie's role has evolved, I'm not sure I could say that today. Certainly, her job, and her value to us, would be very different, and her pay structure and amount would reflect that.
Donna M. Kanabay, RMR, CRR, FPR
President, Kanabay Court Reporters
St. Petersburg/Clearwater/Tampa