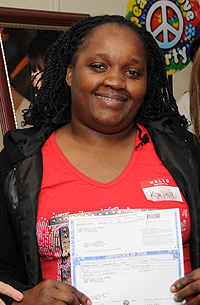 The Keys to a Brighter Future
Starting Right, Now and Wheels of Success Help with a Home, a Job, a Car and New Hope
Keisha, a soft-spoken single mother of four, was in trouble. She had no home, no car, and no job, but she never lost her faith. Her prayers were answered when she found help from the non-profit organizations Starting Right, Now and Wheels of Success. Starting Right, Now assisted Keisha with finding a new apartment and securing a full-time job. Then they referred her to Wheels of Success.
Keisha used to take the bus to work and had to leave her home two hours before her shift began in order to make it to work on time. She had to rely on her sister to pick up her children from daycare. By the time Keisha got home, there was little time left to spend with her children doing the things she wanted to do, like helping with homework and preparing nutritious meals.
All that has now changed. Last year, Keisha received the keys to her future at our 1st Annual Biggest Aquarian Birthday Bash. Since that time, Keisha has been promoted to management, and she is attending night school with the hope of getting an even better job.
Her car has opened many opportunities for Keisha and her family. Keisha enjoys driving home from work and spending some unrushed time each evening with her children to prepare for the next day–and her kids are now able to participate in extra-curricular activities, like football and soccer at the local YMCA.
Keisha would like to express her sincere thanks to everyone who has made these live-changing events possible, and she has hope for even better things in the future. After successfully completing the WOS program this year, Keisha received the title to her car at the 2nd Annual Biggest Aquarian Birthday Bash!