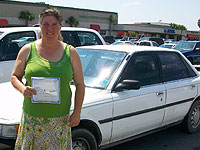 Homeless Female Veteran Gets Wheels
Maria L was driving a Chevy Lumina she had purchased from a friend for $500. She was putting too much money into the car to keep it in the road. That's when Maria heard about Wheels of Success through Genesis, a counseling agency that assists with credit management and ultimately was referred to Wheels through the Homeless Female Veterans' Program.
A veteran and security officer working on the docks at the Tampa Port Authority for the past three years, Maria has to be ready to report to work at any hour of the day. She credits the Toyota Camry she received through Wheels as having saved her job. Says Maria, "I'm 45 years old; I have an associates degree in early childhood education. It would be nice if I could go back to college. But right now, it's one step at a time. Step one definitely was safe transportation. I'm so grateful to Wheels because, without them, I wouldn't have been able to keep my job."
UPDATE: Maria is living in her own apartment and earned her title in June 2009! She has turned to us since then for assistance with repairs needed to her vehicle.