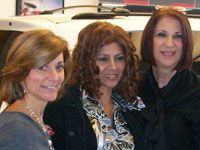 When Maritza made the decision to end an abusive relationship, she needed to leave quickly to protect herself and her three sons. Homeless and jobless, she turned to the non-profit agency Starting Right, Now for support. They were able to help Maritza find a home and a job, and then they referred her to Wheels of Success.
In December, AutoWay partnered with Wheels of Success to present 13 families with 13 new-to-them vehicles .Maritza was the recipient of a minivan from AutoWay Nissan of Brandon—perfect for this single mother of three active boys, ages 9, 11 and 15. In less than a month, Maritza's minivan has provided the family with more than independence and convenience, it has improved their quality of life dramatically.
Before Maritza had her van, her employment choices were severely limited, but she was willing to do whatever it took to support her family, including walking 40 minutes each way to a job that wasn't ideal. "You can do nothing when you do not have a car. Getting to the store, to school, and to work is very hard. Sometimes you have to walk in the rain or it's very cold," Maritza said.
Her minivan allowed her to expand her job search, and she recently found a new job with better pay, better hours and very supportive co-workers. Maritza said, "My life has changed so much. I feel like I really want to go to work every day. I'm excited and happy." Another benefit is that she is able to be home every day to greet her children when they get home from school. She is grateful for the extra time she has each day to spend with her sons, helping them with their homework and having dinner together as a family.
Maritza loves her minivan and appreciates the options it has given to her and her children, things that many people take for granted. She can now take her sons to the library, and she just signed up her oldest son for soccer—things she could not do before because she didn't have her own transportation. She is looking forward to someday soon when her boys will also be able to play football.