Success Story: Martinique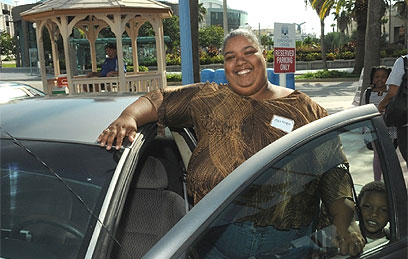 Martinique is a single mother who is working hard to make a better life for herself and her three children. She is trained in phlebotomy and as a CNA (Certified Nursing Assistant), and she recently landed a job at a doctor's office in Riverview. Her home, however, is in Carrollwood. After walking more than a mile to the bus stop, the ride (including transfers) would take nearly three hours.
Spending so much time commuting was keeping Martinique away from her children—and costing her more in daycare expenses. Relief came through the JARC program, but Martinique was worried because she knew this transportation assistance was temporary.
Martinique was very happy to receive the keys to her "new to her" Dodge Intrepid from Wheels of Success on Labor Day. Not only is the car making her commute to work easier, it is allowing her to take her four-year old son, Tristan, who has special needs, and Martinique's mother, who is recovering from spinal surgery, to their frequent doctors' appointments.
Martinique plans to continue her education while working full time. Her goal is to finish a two-year degree at HCC and then transfer to USF and train to be a pharmacist.