Success Story: Mary
"With a reliable vehicle my hard work is paying off with a brighter future for myself and my child"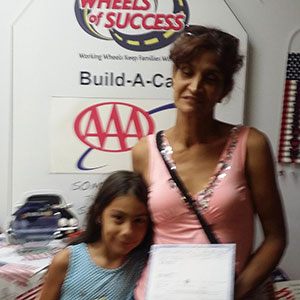 Mary a single mother was referred to Wheels of Success in 2016 by Metropolitan Ministries. At the time she was struggling to get to work without a reliable vehicle and struggling to support herself and her young daughter.
She also had no support system to help her as she has no family or extended family located in Florida. Public transportation was not an option due to her 5:30 am work start time, as bus schedules do not start early enough for her to arrive to work on time.
Mary received the keys to a "New to Her" low mileage 2000 Nissan Maxima in May 2016 thanks to Build-A-Car funding from our Champion Sponsor AAA. "Now with a reliable vehicle all my loyalty, honesty and hard work are paying off with a brighter future for myself and my child". Since receiving her "New to Her" vehicle Mary is able to get to work on time to support her family and also frequently works overtime. She now feels that she can be the best parent possible to her daughter both financially and by being fully active in her lifetaking her to activities, church events, teacher conferences and much more. As a result of all her hard work we are pleased to announce that Mary has completed Wheels of Success' 1 year program by paying off her vehicle and receiving the title. Her future and her daughter's future are bright and her Wheels vehicle is still getting her everywhere she needs to go.