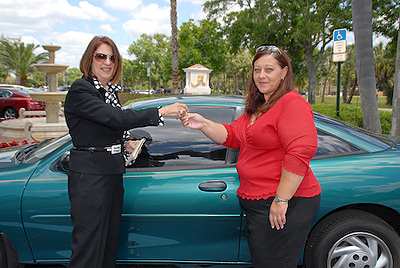 Mere words can not express how I felt this morning, knowing that Hannah and I did not have to get up at 6 a.m. and ride the bus to get her to school. Six hours out of my day just to get her to school and picked up is way too much. When I opened my front door and looked out and saw my car, the feeling of relief was overwhelming! For all of this year, we have been riding the bus almost every day. Sometimes we would get a cab because it was raining or just too cold. But now, all that is over thanks to Wheels of Success.
I am a single mom, who has had 7 children, most of whom I have raised by myself. I was 16 years old when I married and had my first child. My husband and I divorced 24 years and 6 kids later. At that time, I got my GED and my CNA certificate and went to work in the nursing home and home health field. A few years later I was blessed with Hannah, although her father and I never married he remains a constant in her life. Having reliable transportation has always been my achilles heel. Up until I got my van at a buy here/pay here, I mostly had old junkers that didn't last very long.
In November my alternator  went out in my 1995 Ford Windstar van. A friend fixed it for me, and then two weeks later when I went to go to work the fuel pump went. At that point in time I did not have the funds to repair it, and I had to decide whether it was worth fixing or not. The past year had seen quite a few costly repairs done and I didn't want to throw good money into fixing something that was just going to keep breaking down. I decided to junk it and ride the bus until I could afford to get something else.
My co-worker, Barbara Walker had told me about her experience with Wheels and how blessed she was to get her car through them, so I looked them up on the web site and submitted my application. I have been in college for a couple of years now to get my degree in Human Services as I want to work with homeless families one day. I am involved with an organization on the Clearwater Campus called Women on the Way, (WOW, for short). The director, Sharon Coil, recommended me to Wheels, and I spoke to Susan sometime in January, explaining how my application had been accepted but they didn't have any funds at the time to help me get a car. In the meantime Hannah and I continued to ride the bus and pray that soon a car would come through for us.
I will never forget the day that Susan told me that a car was available to me. Having this car and the support of the Wheels organization means the world to me, not only because we don't have to ride the bus anymore but because it allows me the freedom to continue my education without having to sacrifice time with Hannah. Getting up to the college was nearly impossible time-wise, as most of my classes are in the opposite direction of Hannah's school. Now I don't have to depend on other people for rides to the grocery store or the bank, and I can go visit my mother who only lives 5 miles from me but, again, is nearly impossible to get to by bus.
I am excited to help Wheels in any way I can to get established here in Pinellas County and look forward to working with Susan and Karen to make this happen. Thank you from the bottom of my heart!