Wheels of Success 4th Annual Labor Day Give-Away Celebrates Workers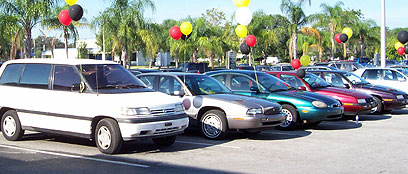 The parking lot of the Family Justice Center offices, where Wheels rents space, will be the site of the non-profit's 20-car give-away on Monday, September 7th from 9:00-11:00 a.m. This is the fourth year that we will give out 20 vehicles to Hillsborough, Pinellas and Pasco County residents who are employed full-time and in need of transportation-related services to avoid joining the overflowing ranks of the unemployed in Tampa Bay. Included in this group of recipients will be the fourth teen whom Wheels has helped to age out of foster care with transportation the pilot program, Wheels to the Future, made possible by the generosity of The Eckerd Family Foundation, with assistance from the Tampa Rotary Club of Tampa.
Just as Labor Day celebrates American workers, this WOS event celebrates workers in Hillsborough, Pinellas and Pasco Counties. Current economic challenges and unemployment statistics make losing a job a potentially long-term threat to maintaining stability. This growing reality is a perfect fit with the Wheels of Success mission to keep working people working. Through donations, WOS is able to provide various transportation solutions to people who are above the poverty level and not qualified for federal programs but, through unexpected financial trials, need help to prevent their lives from skidding out of control.
Despite vehicle donations being down and the disappearance of county grants responsible for funding previous Labor Day Give-Aways, Wheels is committed to celebrating workers through the fourth annual 20-car give-away. The $20,000 needed to make donated vehicles road-worthy will be raised through the serendipitous Power of Giving challenge issued by Ryan Nece. Ryan gave $55 to 60 individuals locally, urging them to find ways to pay-it-forward. When Fox 13 passed the challenge on to Wheels (which actually is based on a pay-it-forward philosophy), we responded with the Power of Giving / $55 Saves Lives effort. Keep checking this site as we track contributions; see how winners' circles of support are helping WOS to continue our Labor Day tradition.
Because the need to keep working people working has never been greater, this Labor Day Wheels of Success celebrates not only area workers but also Tampa Bay's ongoing spirit of generosity!